Contact
*Email
*Notes
*Aim
Navigation
*Newest
*Archive
*Random
*Odd Googles
*Profile
*About Me
*Cast
*Photo Albums
*Rings
*Diaryland
*Make My Day
*My Linkers
Links
*Adagio Teas
*Kasora Teas
*Wishlist
*Lissa Explains
*NerdsOnSite
*HaloScan
*FullMoonGraphics
*1000 Journals
*Free Words
*20 Questions

Have you seen Leanna Warner?
Click on photo for more details.
Recently shared thoughts
I'm a 5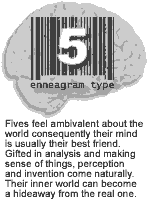 take free enneagram test
Now this is scary. Talk about Freaky.
I am stuck for another 15 minutes at work assuming R* shows up. Warren is stuck with me, as it is very hard to find someone to watch him on Saturday mornings. After yesterday I wasn't about to have any dealings with Mike. Its only a half shift, so its not too bad. At least it is slow. So far, he has played with the slinky and made it walk, played Sonic Advance on Gameboy (a loaner from a coworker), and now he is typing. He has decided that he loves experimenting with the different fonts in Word 2000.
I am feeling the spring clean bug. If it isn't squished by the time I get home, I may actually start tackling some of that cleaning. I need to get my place totally clean as my carpets need a professional cleaning, like a chip needs a dip. I also have two lovely icky litter boxes waiting for me. (the only thing about kitty ownership I loathe). Maybe as a treat if I get a bunch of work done, I will bake something or make a big old pot of knepfla. I have a craving lately. Except I like to add ham or chicken or somthing to my knepfla to make it more like a meal, than just a soup.
Only T-10 minutes and counting. It could be a long weekend. I told Warren for Easter since he doesn't need all that candy and colored eggs, he could choose between BayBlades or what ever they are called, or he could go see ClockStoppers since he has talked about it nonstop for days. We just saw E.T. last night and he loved it. I knew he would. I forgot how sad it was at the end. I loved it again, as much as I did in 7th grade. Yes I really am that old! I was a 7th grader when it first came out.
This time I also need to remember to shut my stereo off when I leave. I turn it down to take calls, and sometiems I forget it. When I was sick with the martian flu from hell, last week, poor Meat Loaf sang his heart out for three, almost four days straight. Poor guy. I am amazed he didn't have laringytis.
TTFN - ~Thought for Today~ "Of all the rights of women, the greatest is to be a mother." -- Lin Yutang
"The most important thing a father can do for his children is to love their mother." --Author Unknown
|

Prequels ~ Sequels

Daily Dumbass:
Thankful For:
Music of the mind: :

~*~Have you read these~*~

~ Ode to a child who is no more ~
~ She's baaack ~
~ testing ~
~ Facebook me ~
~ Bleech ~



Layout copyright Me, Myself and I. Correct viewing of this site requires IE 5.0 or higher. Use of any other browser may result in unintended results.(Netscape 4.0 or higher is passable however I haven't yet been able to get it to look right in Firefox)

All contents, (except graphics) unless otherwise specified, are the property of TheCrankyOne. Please ask permission before using. Person's caught using pics of my son without permission will be severely dealth with. Graphics are courtesty of Full Moon Graphics. If you want to use them, ask Kitty not me..

Also this is my diary and if you don't like what you read, then I suggest you move on to another diary. I do not write to please others, I write for myself. If you don't like my diary it is your problem, not mine.
Any rude comments, spam, flames etc.. will be deleted as soon as I become aware of them. Also if you wish to comment please have the decency to leave a valid form of contact such as a web address or email, unless I happen to know you and would know who you are.
This Web site is Registered with Published.com

/> This work is licensed
under a Creative Commons License.
Mini-Bio
In every neighborhood there is at least one house that all the neighbors gossip about. This is a diary from the woman who lives in that house. I am a single mother in her mid thirties. I live in North Dakota with my son, Warren.
I tend to be a bit of a slob, and am the opposite of a girly-girl. I am geek girl, who loves Star Wars, Star Trek, Harry Potter, Buffy, Angel, action movies, science fiction, action adventure, Dr. Who, and so on and so on.
I love to write and while I don't post much fiction online anymore I would love to be a writer someday. I am also overweight, bipolar and suffer from allergy induced asthma.
Reads